This is me with two of my Belgians


All my younger life has been spent with German Shepherds, with our first german shepherd finding us after a tragic car accident involving his owner. Then many more past through our lives....
Then one day I saw this stunning dog on "Burkes Backyard" on T.V. It was a Belgian Shepherd Groenendael which became my first show dog. Then later on came a Tervueren....
After attending many dog shows I finally met Kerry who owned the other two variety of the Belgian Shepherds Laekenios & Malinois as well as solid black, black and gold and black sable GSD's.
I have also come back to the German shepherd now owning solid blacks, sables and black & golds.
I consider myself very lucky to own all four varieties of the Belgian Shepherd, which are still part of my life. We are looking forward to seeing our "Groenendael" kids (Opal/Fax puppies) continue to succeed in the show ring and trying their paws in a few different directions of the doggy world.

Our dogs are a hugh part of our lives and our families. We spend a lot of time TRAINING, TRIALLING, SOCIALISING and having heaps of fun with our dogs. They compete in CONFORMATION SHOWING, OBEDIENCE, LURE COURSING and any other fun activity we can do with them.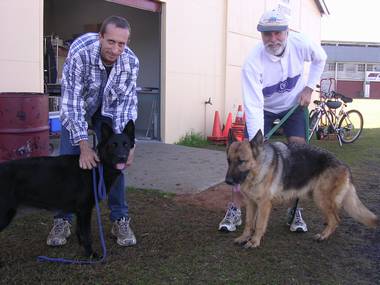 Richard with Cyndy and Rob with Teddy
Grafton Dog Obedience Club Endurance Test 2006
****************************************
Look out for our news in 2010!!!!
Bekky had a wonderful weekend out at Maryborough winning bitch CC and RUBOB on Saturday leaving her only needing 8pts to gain her title. So on Sunday she went all out and won 8pt CC to gain her title, Best of Breed and to top it all off - BEST IN GROUP!!!!

With the recent heartache of losing both Cayden and Lilly, we are now making plans for our next exciting litters for 2010.
All going to plan, we hope for a litter of Solid Black puppies within the next few months and fingers crossed for some of those elusive black sable puppies!

2010 hasn't started off well with many brown snakes being seen in and around our houseyard and unfortunately we lost our beautiful Cayden on 19th January. Now we wait and hope that there is a nice boy from his litter due in February.
RIP Cayden
**Taken far to young**
17.06.2006 - 19.01.2010
Just when we thought the rotten things had disappeared with the onset of the cold weather, we lost our gorgeous girl "Lilly".

RIP Lilly
**14.02.2006 - 3.06.2010**
Lilly and Cayden produced a stunning long coat black boy that will remain here with us. "Brayden" has some huge paws to fill but so far is doing very well!

Look out you wriggly damn things, this is war now!

New Years Eve 09 we went to look at a young girl advertised that wasn't too far away from us and came home with a sweet, loving young lady "Bess". She is a Quartz Vom Danischen Hof daughter bred by Vonehrlich kennels. Once she has settled and gets some more coat we will try a few shows with her and see how she goes. She is very responsive to training so some obedience might be in line for her as well!

June 09 saw the arrival of "Bekky", she is a litter sister to our wonderful "Abbey". They both compete at the GSD National and both receive the Excellent Medallion!

April 1st 09 - With much sadness we awoke this morning to find that our much loved and treasured "Teddy" had slipped away peacefully in her sleep. She had cancer but was still very active, eating well and still very much enjoying life. In fact just yesterday she brought smiles to our faces watching her roll in the grass after having a bath. A huge thank you to our wonderful neighbour and good friend Narelle for coming over and helping lay her to rest. Another special tree will be planted tomorrow and as soon as we can find a nice teddy statue it will be added to her special spot.
Rest in Peace beautiful girl. You have given us many years of irreplacable memories.
Aust Ch QLCA F CH Redhaus Haze ET
20.01.1999 - 01.04.2009
January 09 - We welcome our new girl "Saber" (Enli Trezea). Saber is a black sable short coat with huge retrieve drive and a very firm solid attitude. She has settled in well and we look forward to the future with her. Her pedigree consists of some excellent working dogs - she will be xrayed soon, then plans for an exciting litter with her will be made. All will be revealed soon!