PHOTO - CHAMSHEP ON A MISSION "CAYDEN"
NO PUPPIES AVAILABLE AT THE MOMENT. BREEDING PLANS HAVE BEEN RESTRICTED UNTIL COVID 19 PANDEMIC. WE DO PLANS PLANS FOR LITTERS LATER IN 2020 AND DETAILS WILL BE UPDATED ON THE PUPPY PAGE WHEN WE HAVE ANOTHER LITTER AVAILABLE. SORRY WE ARE NOT USING A WAIT LIST DUE TO THE MASSIVE AMOUNT OF DAILY ENQUIRIES.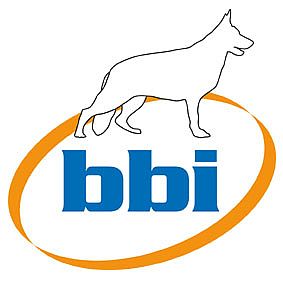 INFORMATION ON OUR WHITE SWISS SHEPHERDS WILL BE UPDATED SOON.
Both Abbey & Bekky receive EXCELLENT Medallions at the GSD NATIONAL!
Thank you to Michael Knapton for handling Bekky for us, it is greatly appreciated!
Abbey's gorgeous sister "Bekky" joins us here in QLD!! She has settled in well and will start her All Breeds Show career very soon. We once again thank Rex Curry very much for entrusting Bekky to us - We will do you proud!!
Bekky wins Runner Up In Group at her 2nd All Breeds show!!!
To finish off her title Bekky goes one better and wins BEST IN GROUP at Maryborough!!!
ABBEY WINS BEST IN GROUP AT BURNETT KC 18TH JANUARY UNDER JUDGE MR L BUTLER (NSW)!!
WAY TO GO ABBEY!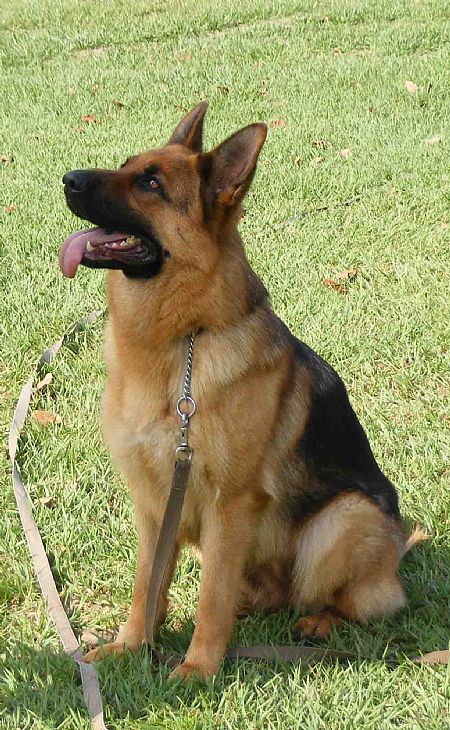 HEIKO COOKIE MONSTER A Z BSCL 2 "ABBEY".
WE ARE FOREVER GRATEFUL TO REX CURRY FOR ALLOWING THESE ABSOLUTELY GORGEOUS DOGS TO BE A PART OF OUR FAMILY. MICAH HAS STARTED HIS SHOW CAREER IN QLD AND IS TURNING HEADS WHEREVER HE GOES!!
ABBEY STARTED HER ALL BREEDS CAREER OFF WITH A BANG WINNING RUNNER UP IN GROUP THE FIRST DAY AND BEST OF BREED THE SECOND DAY!!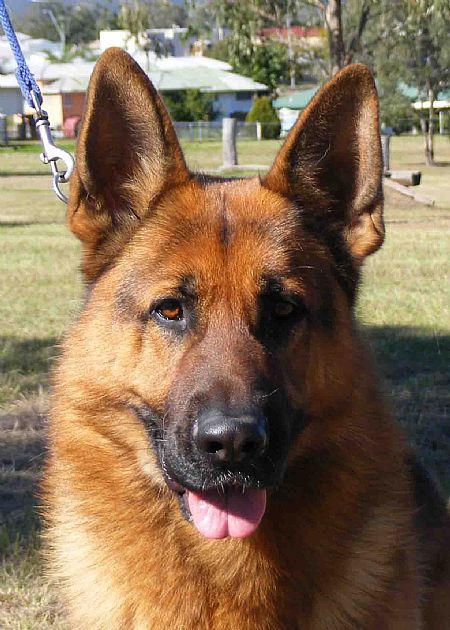 WE WELCOME OUR NEW BOY HEIKO BONE HEAD A Z BSCL 1 - "MICAH" TO QLD. MICAH IS AN ABSOLUTELY STUNNING, LARGE DOG WITH AN EXCEPTIONAL PEDIGREE AND EXCELLENT HIP/ELBOW SCORE. FULL DETAILS ON "MY DOGS" PAGE.
MICAH FINISHES HIS AUST CH TITLE WITH A BEST IN GROUP & OPEN IN SHOW AT GLADSTONE 5TH AUGUST!!
************************************************
CYNDY GAINED HER AUSTRALIAN CHAMPION TITLE!!!!!
CYNDY IS THE FIRST "BLACK GERMAN SHEPHERD BITCH" TO BE TITLED IN AUSTRALIA EVER.........and they say there is no colour prejudice! Only 3 black GSD's in the history of dog showing in Australia have reached this award, with several others taking their whole life trying to get there.
For the gorgeous "Cinta" ,"Zubin" and "Kelly"who didn't quite make it, this title is in memory of you!
CYNDY HAS DONE EXTREMELY WELL SINCE ENTERING THE SHOW RING IN THE SECOND HALF OF 2007, GATHERING OVER 30 CC PTS AND RESERVE CHALLENGES AND CLASS IN GROUP AWARDS FROM FULL LINE UP OF "NORMAL" COLOURED GSD'S.
THANK YOU TO THE JUDGES THAT HAVE AWARDED HER, THERE IS MORE TO A DOG THAN THE COLOUR. BUT THEN WE ARE BIASED ! BLACKS RULE!!!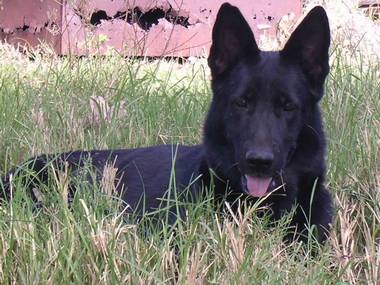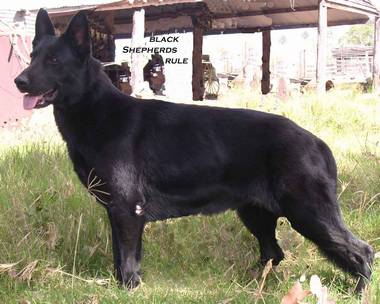 AUSTRALIAN CHAMPION CHAMSHEP CYNDY ET
WE LIVE IN A RURAL SETTING WHERE OUR DOGS HAVE HEAPS OF SPACE AND FRESH AIR TO ENJOY. THEY ARE ALL A PART OF OUR FAMILY AND PARTICIPATE IN AS MANY ASPECTS OF THE DOGWORLD THAT WE CAN POSSIBLY DO!
OUR DOGS ENJOY A LIFE OF LURE COURSING, HERDING, OBEDIENCE, AGILITY AND CONFORMATION SHOWING, AND OF COURSE PLAYING WITH THE KIDS AT HOME.
OUR SOLID BLACK SHEPHERDS HAVE MADE THEMSELVES KNOWN ALL OVER AUSTRALIA AND OVERSEAS AS LARGE SOLID DOGS WITH OUTGOING, EXCELLENT TEMPERMENTS. MANY HAVE EXCELLED IN SECURITY WORK, TRACKING AND LURE COURSING FIELD CHAMPIONS.
EVEN THOUGH THE SOLID BLACK IS OUR PASSION WE ALSO BREED BLACK AND GOLD AND BLACK SABLE SHEPHERDS. ALL OUR BREEDING STOCK IS HEALTH TESTED AS PER ANKC RULES. WE USE DOGS THAT FIT OUR TEMPERMENT REQUIREMENTS AND HAVE THE LOWEST HIP AND ELBOW SCORES AVAILABLE. WE DON'T BREED FOR THE LATEST FASHION BUT FOR AN OVERALL PACKAGE - THAT IS A HEALTHY MIND AND BODY, A SOCIABLE, INTELLIGENT DOG THAT IS EAGER TO PLEASE AND LEARN AS MUCH AS THE HANDLER IS WILLING TO TEACH. HAVING OUR CHILDREN TO HELP RAISE OUR PUPPIES ENSURES THEY ARE OUTGOING, HAPPY PUPPIES THAT THEIR NEW FAMILY CAN ENJOY!

PLEASE KEEP CHECKING BACK AS WE CONTINUE TO UPDATE OUR INFO AND LET YOU ALL KNOW WHAT OUR DOGS HAVE BEEN UP TO.
PLEASE DON'T FORGET TO SIGN OUR GUEST BOOK WHILE YOU ARE VISITING AND PLEASE CHECK BACK SOON FOR OUR UPDATES.
BREEDING DONE IN CONJUNCTION WITH "CHAMSHEP". OWNER/EXHIBITOR/BREEDER OF SOLID BLACKS SINCE 1988.
WE HAVE GENERATIONS OF SOLID BLACKS & BLACK SABLES. WHEN CHOOSING YOUR NEXT PUPPY CHECK WITH US. WE CAN PROVIDE GENERATIONS OF HEALTH SCORES AND PERSONALLY KNOW NUMEROUS OTHER DOGS WITHIN THE PEDIGREES OF OUR BREEDING STOCK.